Posted on November 16, 2019 - Filed Under Uncategorized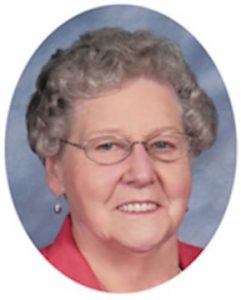 Velma E. Dieckmann, age 90 of Batesville, died Tuesday, November 12, 2019 at St. Andrew's Health Campus. Born August 13, 1929 in Cedar Grove, Indiana, she is the daughter of Alma (Nee: Pulskamp) and Alfred Deffner. She married Harold Dieckmann September 8, 1956 at Guardian Angel Church in Cedar Grove. A homemaker, she was a member of St. Louis Church and the Daughters of Isabella.
An exceptional cook, her homemade bread and rolls will be dearly missed. Velma also was a longtime babysitter, having watched many of the children from the area through the years. She is survived by her daughter and son-in-law Wilma "Willie" and Dennis Moeller of Oldenburg; sons and daughters-in-law Paul and Anita Dieckmann of Danville, Indiana, Brian and Sandy Dieckmann of Whiteland, Indiana; sisters Pat Naayers of Florida, Sharon Singer of West Chester, Ohio; brother Dale Deffner of Brookville; seven grandchildren and six great grandchildren. In addition to her husband and parents, she is also preceded in death by her brother Ron Deffner.
Comments